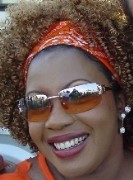 0000-00-00
PRINCESS GEORGY: THE LATEST BOMBSHELL AUDIO INTERVIEW - CLICK ON ARTICLE TO READ DETAILS & TO LISTEN TO IT!
PRINCESS GEORGY has broken her silence after months of being back in HANGOUT. Check out what she has to say this time...Georgy BLUNT and STRAIGHTFORWARD as always. HOT INTERVIEW!
Here is the link to LISTEN to the interview
click here



Check out the latest bombshell audio interview from PRINCESS GEORGY. (Interview is in BOTH in ENGLISH and CREOLE)

She is as always VERY OPEN/STRAIGHTFORWARD

*She talks about her return to Hangout and if she is happy or not (Interesting answers)

*Her relationship with her bandmates CLEO and PIPO....

*Does she think Pipo is jealous of her because of her popularity, and what does she say about who she thinks is more popular HER or PIPO?

*Her shocking statement about her former band ZIN in regards to their popularity after she left the group.

*Her love life and other personal details...including why she finds it easier to fall in love with people in the business than regular folks.

*What she thinks her legacy in the HMI is....

*She also talks about if she feels she gets respect in the business from her peers.

*Does she feel she can ever surpass her popularity as when she was with Zin?

*What does she say to OCHENDO (ELEMAN NORMAL LA) about him calling her a BITCH because of her refusal to take a photo shoot for a flyer with Cleo.

& MORE!