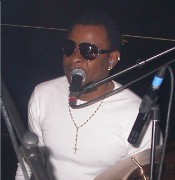 2006-05-03
RICHIE GIVES KM A SNEAK PREVIEW OF GRACIA/RICHIE TRACK "YO REMELE...SPAGHETTI STYLE"!
Check out what happened when we spoke to RICHIE yesterday. Fans of Richie/Gracia should be happy.
RICHIE gave KM a preview listen of the song "YO REMELE" (Spaghetti Style) that will be off of their upcoming cd scheduled for release in June (End of June he told me). I heard the music, and I also heard Richie doing some scratch vocals on there, including the parts where Gracia is supposed to sing. All I can tell you is that IT FITS LIKE A GLOVE....The song has the ZENGLEN SOUND (Nicky is on there as well), and it sounds like a WINNER to me.

"Se devan Djoumbala....."

KM!