love4kompa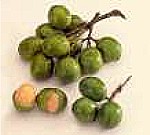 Joined: 13 Mar 2006
Posts: 78
Location: NY
Posted: Tue Mar 14, 2006 11:17 pm

 

   Post subject: Hello!

---

Hello everyone, I am a new member to Kompa! Magazine. I have been reviewing the board for months now and finally decided to join the fun! I went through withdrawal (like all the others mentioned) while the site was down and I realized that it's time I join in on the conversations that I enjoy so much.

As you can tell from my name, I LOVE Kompa! From as long as I can remember, music was(and still is) always playing at home. My parents are music lovers and that was definitely passed down to my siblings and I. I love all genres of music, but there is nothing like Kompa. My appreciatian for Kompa is hard to explain-all I can say is that I wake up to it every morning and it puts me to sleep at night.

I attend 1-2 bals a month(sometimes more) and since I travel alot for work, I have seen some of my favorite bands in NY, PA, DC, CA, FL, MD and NJ.

I enjoy reading the posts here and look forward to adding to the board!

Thank you Patrick for activating me!