The 50 MEMBER PANEL says.....
PAST WINNERS
2018 Winner: KREYOL LA "Mwen Pou Kòm"
2017 Winner: HARMONIK "Incroyable"
2016 Winner: SHABBA "Antann Nou"
2015 Winner: CARIMI/MIKABEN "Baby I Miss U"
2014 Winner: NU LOOK "Confessions"
2013 Winner: HARMONIK "Mwen Bouke"
2012 Winner: xxxxxxx (We did not do it that year)
2011 Winner: T-VICE "Tanpri Souple"
2010 Winner: CARIMI "Buzz"
______________________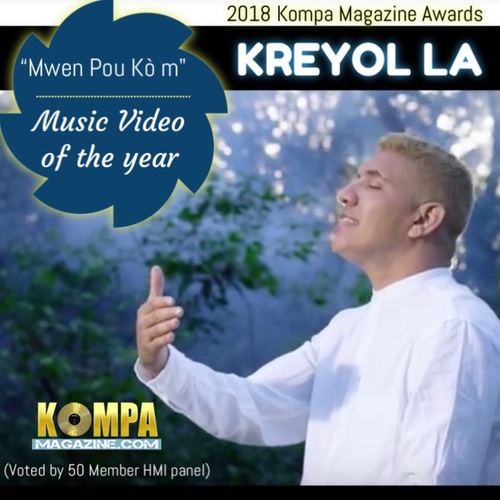 (****ONLY VIDEOS sent to our KOMPAGROOVES youtube channel by the bands/artists are considered****)
NOTE: KREYOL LA wins this award for the first time.
RESULTS!
1) MWEN POU KÒ M" (Kreyol La): 15 Votes
(Members who voted for Mwen Pou Kom): Roberto Martino, Ti Met, Ronnie Dee, Alan Cave, Jean Disip, Johnny C. Productions, Rene Karizma, Fanfan Senatus, Emmery Red, Stanley & Friends, Superduke, Goose G5, Sanders Boston, Charlin Bateau, Cadet Jean Junior)

2) SIMPLICITE (Harmonik): 7 Votes
(Simplicite votes: Mikelson, Jay R, Santibon, Stanley Gabel, Bato, Berlin ACP, Tchoukito Vice)

3) HABITUDE (Djakout): 6 Votes
(Habitude votes: Vivens JC, Sexy Beef, Clifford Raphael, Polo Fusion, Junior Vaval, Hans Cadet)

4) GRÊ BÊBÊ (Zenglen): 5 Votes
(Votes by:Shabba, Champ Productions, Lele, Ti Pachou Gabel, JSuav)

5) PAP NEGOSYE W (Harmonik) 2 Votes votes by Drasso & Ti Prudhomme
MALGRE TOU (Maestro) 2 Votes by Zoe Solo & Kiki Swag Muzik
SAN LIMIT (T-Vice) 2 Votes by Henry MVP & Bodo

8) GAME OVER (Vayb) 1 Vote by Baba Fusion
PASYANS LANMOU (Kado) 1 vote by Vlad Entouraj


***Felder, TeddyMix, Berto, Kennyway, Makenson, Sanders, Olivier Duret, Junior de Boston, and PSL did NOT vote in this category.
__________________________________________
50 JUDGES for 2018 KOMPA MAGAZINE AWARDS
1) ROBERTO MARTINO (T-Vice)
2) SANDERS SOLON (Harmonik)
3) SHABBA (Djakout #1)
4) KENNY DESMANGLES
5) ALAN CAVE
6) PIPO ST LOUIS (Mardi Alternative Haiti)
7) TI MÈT Peterson Gilles (Radio Kiskeya Haiti)
8) RONNIE DEE (Montreal)
9) BABA (Owner Radio Fusion Fort Lauderdale)
10) BERTO (Bel Plezi)
11) JEAN DISIP (Disip Drummer)
12) CARL "Toujou SANTIBON" (Atlanta Promoter)
13) MAKENSON (Former Disip guitarist)
14) JUNIOR De BOSTON (Boston Promoter)
15) VLAD ENTOURAJ (NYC Promoter)
16) JSUAV (Cruz La)
17) OLIVIER DURET
18) BODO (Keyboardist former Disip/Zenglen)
19) JEAN CLAUDE VIVENS (Journalist/Swag Musik manager)
20) HENRY "MVP" (Promoter W.P.B)
21) JOHNNY C (Atlanta Promoter)
22) SEXY BEEF (Musician/Producer)
23) TEDDY MIX (Promoter/BMG DJ)
24) MIKELSON Entertainment (Promoter Connecticut)
25) CLIFFORD RAPHAEL (Promoter Philadelphia)
26) JAY R (Guitarist Red)
27) TI PACHOU (Gabel)
28) RENE KARIZMA (Karizma group manager)
29) FANFAN SENATUS (Promoter Jersey/Spring Valley)
30) STANLEY & FRIENDS (Haiti Promoter)
31) EMMERY RED (Vocalist)
32) STANLEY GABEL (Guitarist)
33) KIKI SWAG MUSIC (Vocalist)
34) DJ SUPERDUKE (Boston Party DJ)
35) ZOE SOLO (Keyboardist/Producer)
36) LELE (Septen/509)
37) POLO (Radio Fusion Fort Lauderdale)
38) GOOSE (Miami Party Host)
39) JUNIOR VAVAL (NYC HMI Personality)
40) TI PRUDHOMME (Congas Disip)
41) BATO (Guitars)
42) BERLIN (ACP Paris)
43) HANS CADET (Jersey Promoter)
44) SANDERS BOSTON (Radio Personality)
45) CHARLIN BATEAU (Vocalist)
46) FELDER ANTOINE (Bass Player T-Vice)
47) DRASSO (Disip Maestro)
48) CHAMP PRODUCTIONS (Promoter)
49) TCHOUKITO (Guitar T-Vice)
50) CADET JEAN JUNIOR (Scoop FM Radio/TV Haiti)
Site Admin
Posts: 4585
Joined: Thu Dec 10, 2015 12:05 am