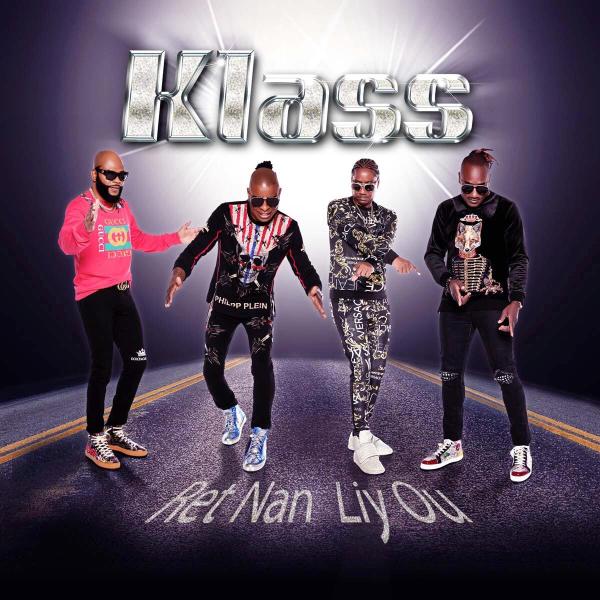 Below is our SONG BY SONG CD REVIEW of the group's latest CD!
*BOUCHE TWOU VID: Debut track talks about "relationship issues" about guys NOT letting any holes open in a relationship for a woman to have the opportunity to replace you if you are not doing everything you are supposed to be doing to make her happy. In other words...Bouche twou vid. The MUSIC is actually a lighthearted happy go lucky track....with a serious message stuck in there. Certainly gets your attention to kick off the cd.

*BLAKAWOUT: One of the first 2 songs that caught my attention right away. The chorus sticks to your brain right away, and I suspect if pushed well by the band, it can do a good amount of positive damage for the group. CATCHY/COMMERCIAL.....would be shocked if it does not become a hit.

*RET NAN LIY OU: This should have been the kickoff track to start the cd simply because it does not take too long for the song to grab you by the throat....courtesy of the first guitar lick from EL POZO. Also aimed at the pure compas direct lover, as I suspect it will the favorite uptempo on the CD. Great cameo appearance by rapper MASTER BRAIN on the track. It is no surprise that it is already a favorite on the LIVE circuit. The keyboard is also on point on this track.

*KLIKE SOU LI: One of the 2 songs that got me right away when I was just browsing through the cd when I first got it. The fact that they started playing it LIVE from the very beginning is an indication of what the band thinks of the song's potential. I hope they don't take long before dropping the music video. This song has HIT written all over it....let's see if the public will agree.

*KOUT PAPA: Richie takes center stage on this very interesting scenario of a song. Fathers being fooled into thinking that a baby is theirs....until they find out later in life through DNA that the kid is NOT theirs. TOUGH TOPIC made on a party world beat track. I wonder if people in that situation are going to enjoy this song as much as people who have not experienced that. HMMM....Richie must enjoy talking/singing about these types of "HARD REALITY" topics (Pitit Deyo...and now Kout Papa). I might be wrong, but in the current studio format that the song is in, I don't see Richie pushing this song "LIVE" like he did with "Pitit Deyo", but it will be a song that many will listen to on the cd.

*LANMOU PARFAIT: A beautiful song....has parts of Ed Sheeran's "Perfect" song at the beginning with added Compas touches after it to bring it the Klass flavor. I hope they will play this song Live sometime down the road because I imagine the LIVE version will do well at parties. Good job on this one.

*RESPEKTE FANM: I looooooove the vibe of this song. A mix of Raboday and Compas with a wink to target the young crowd in Haiti. DJs will be blasting this at parties.....now CAN KLASS play this song "LIVE" with the same heat/vibe? That remains to be seen. Brilliant STRATEGIC move and potential banger. Nice message as well. First Listen grabber for ME.

*JOYEUX NOEL: Track that was released last year.

_________________________

I love the CD. I like the fact that there are not too many songs on here, which in turn will allow each one of the songs here to get the right amount of "shine" if you will. I would bet the ranch on "KLIKE SOU LI" and "BLAKAWOUT" for potential hits, and I might be willing to take a risk with "RESPEKTE FANM" as an outsider....providing that HAITI embraces it, simply because that is where RABODAY is strongest in our market. The song "RET NAN LIY OU" has created the biggest buzz "LIVE" for Klass so far, but let's wait a little bit and see if it will just be a BAL BANGER for the group "only", or if it will go to the next level.

We notice that Richie does NOT go too far from the KLASS formula on the cd (take out the Respekte Fanm); not sure if the results that he was hoping to get with the song "Veye sa w pral wè"....influenced that decision; but the message that the group is apparently trying to send with this record is NO MESSING AROUND...NO EXPERIMENTS..NO BS....JUST PURE BUSINESS to keep the $$$$ coming in. With this CD, they have taken a great step in maintaining their position in the market. I enjoyed this CD a whole lot, and
I can see it helping the band remain extremely relevant in the HMI landscape. Great Job KLASS.
KM!
Site Admin
Posts: 4585
Joined: Thu Dec 10, 2015 12:05 am